If you are looking for the best personal knowledge management software programs, here are the best programs currently available.
Data is more important than ever before, and your knowledge is your most valuable and important data. Knowledge management helps you keep track of this information, allowing you to keep it organized, deploy it accordingly, and use it to benefit your organization. Because you have so much knowledge at your disposal, knowledge management software is more important than ever before.
A strong tool can help you leverage your knowledge base to improve your workflow through templates, formatting features, and numerous customizable options. Many personal knowledge management system options are available, so how can you determine which one is right for you? Take a look at a few of the top options below, and use these tools to help you improve your knowledge management system.
1. ClickUp
ClickUp can replace a variety of apps including ones for tasks, documents, goals, whiteboards and collaboration. With regards to personal knowledge management, users can create a single hub of resources for their company or team members. It supports planning and collaborating on content projects in real-time. You can, for example, create documentation for a project and enables others to view or edit this documentation. Its tools support rich text formatting and public and private shares. ClickUp also enables interlinking documents and nesting them, which is a key feature of managing information. Read our ClickUp review to learn more.
If you are looking for a platform that provides a wide variety of features you can access whenever you want, you should check out HelpCrunch. This unique platform provides a wide variety of customer service options, including email, chats, help desk tickets, etc. This exceptional customer service tool is as convenient as possible for those with multiple users.
If you need a modern help center for your team members, this is one of the best tools. It does not provide access to role-based access, and it does not have multilingual content; however, the SEO features are exceptional, and you can set restrictions on certain articles with password protection. It places you in control of everything, placing various features at your fingertips.
4. HelpSite
Pricing: A free version is available with minimal features. Paid plan starts at $14.99 per month for 4 team members
Best for: Small businesses and smaller teams
HelpSite is one of the simplest and least expensive knowledge management tools available. This tool comes with a very straightforward text editor with a wide variety of editing features, but none of the advanced ones. It doesn't have a lot of customizable options available, but it also has a very short learning curve.
When you use this platform, it will automatically suggest other articles relevant to the one you are looking for. This can decrease the number of support requests you have to deal with, allowing you to save time during the day. In addition, this tool can integrate with a variety of other tools such as Groove and Desk.com. While this tool might not be helpful for larger companies, it is beneficial for smaller ones.
5. Concord
Pricing: There is a free version available. There are three tiers of paid plans
Best for: Those who need to store agreements
Concord is a data management system that uses the cloud to help you keep track of contracts from start to finish. You can use this program to create new contracts through templates. Then, you can review your contracts with third parties, either online or offline. You can use this platform to approve and sign various contractual agreements before storing them in an organized way. That way, you can recall them when you need them later.
This program aims to help you streamline the process of documenting digital contracts. This allows you to move forward with agreements, executing them promptly. This program also has a wide variety of third-party integrations you can use to streamline your workflows further. You might also be interested in our round-up of the best OCR software options.
6. Bloomfire
Pricing: Starts at $25 per month
Best for: Those looking for a database they can search through quickly
Bloomfire is a tool that gives you access to a central database you can search through quickly and easily. It takes advantage of the cloud, and it gives your teams the ability to find the information they are looking for as quickly as possible. You can upload various content types into this program, including Word documents, videos, recordings, and PDFs. You can also create new content directly on the platform.
Then, you can use this tool to share various pieces of information throughout your entire department or company. Your employees and team members can save time because they no longer have to find the information independently. This program will do it for them. This can also reduce the time you spend sifting through internal emails, service calls, and customer requests.
7. Quip
Pricing: There is a free trial available, but no free version. The paid version starts at $30 per month
Best for: Teams looking for more collaboration
Quip is a very straightforward knowledge management system. It has been specifically designed for teams that need to collaborate regularly. It is one of the most efficient tools available, it has instant messaging functionality, and it allows everyone to keep track of the most recent version of the file.
This tool is compatible with various platforms, including iPhone, Mac, Android, Windows, and iPad. In addition, you can upload conversations with customers, spreadsheets, and slideshows. All of your information will be in one convenient, centralized location. Because your team members will have an easier time communicating, there should not be very many errors in your work.
8. KnowAll
Pricing: There is no free trial available. The paid version starts at $149 per month
Best for: Those who use WordPress
If you are looking for a knowledge management software program that has been specifically designed for people who use WordPress, KnowAll is the way to go. It has all of the basic capabilities you need, and you can add numerous plugins to your website to create new features and functions.
Essentially, this is a program that you can plug and play. It does not require any coding knowledge. In addition, it comes with an intuitive editor that will help you create articles as quickly as possible. It will help you provide your customers with the answers they are looking for, and it is easy to customize it, allowing you to tailor the program to meet your needs. For these reasons, this knowledge management software program is one of the most popular options available.
9. HelpJuice
Pricing: The basic plan starts at $120 per month. There are four separate paid tiers
Best for: Those looking for an intuitive knowledge management software program
If you are looking for a modern tool that is relatively easy to use, you should check out HelpJuice. It comes with numerous features you can customize to meet your needs. Furthermore, it has a user-friendly interface, making it ideal for beginners. If your team has not had any experience with these programs, you may want to start with this one.
In addition, the platform gives you access to numerous analytics and reporting features. You can look at metrics, graphs, charts, and more, helping you improve your database quickly. You can figure out what processes and workflows work well and what you need to change. Even though this is one of the most expensive tools available, it could be the right one for your team.
10. Infinity
Pricing: The paid version starts at a one-time purchase price of $149
Best for: Those looking for scalable data management plans
If you need a tool to help you manage your data and grow and scale with your company, you should consider using Infinity. It can handle just about anything you throw at it, including contacts, documents, random ideas, pictures, videos, and any other data type.
Then, you can take that data and prioritize what is important to you. You can build workspaces, folders, subfolders, boards, and more. You can sort, filter, and group the information to meet your needs, allowing you to find it easily when you need it down the road. There are numerous other customizable features you can use to simplify the process even more.
You can also choose between six different views, selecting the best one for your needs. For example, you might be interested in a Kanban view, a Gantt view, or a List view. This makes it easier for you to get rid of the clutter, streamlining the daily operations of your various teams.
11. Document360
Pricing: Starts at $99 per project per month. There are numerous paid plans and a free plan available.
Best for: Companies that are growing quickly
If you need a program that has been specifically designed to help you manage documents, you should consider going with Document360. This tool gives you access to a wide variety of collaboration features, including a text editor, that can help you keep track of your information.
You can create internal and external knowledge bases and keep in touch with your team members. The program allows you to comment directly on articles, tagging different colleagues to let them know you are working on their projects. You can use numerous reports to determine what features are performing the best. Even though it is a bit expensive, it does come with popular features that are growing quickly.
12. HubSpot Knowledge Base Software
Pricing: There is a free trial but no free version. The basic paid plan is $45 per month
Best For: Those looking for the most powerful program
If you are looking for a tool that allows you to grow your platform from the ground up with just about every feature imaginable, the tool from HubSpot could be the way to go. You don't have to feel constrained by templates, and it comes with numerous SEO functions that can help you build and discover your library.
In addition, this program can integrate with numerous communication channels, including live chat and email options, to make it easier for your team members and customers to interact with one another. The user interface is easy to learn, allowing you to cut through the different features quickly. You will have an easy time finding your content in the future. You will have access to a wide variety of interactive insights, helping you figure out what is working and what is not.
13. ProProfs
Pricing: There is a free trial available. The paid version starts at $30 per month
Best For: Those in need of a one size fits all tool
This program offers countless features that can help you manage your knowledge. ProProfs gives you access to training tools, chat tools, an incredible text editor, and countless formatting and styling options. You can import a wide variety of documents, tracking incredibly long revisions. If you decide to get the premium version, you can assign tasks to different team members.
You can even customize this tool to include your company's logo. There are countless templates from which to choose, and they will integrate with Zendesk, Freshdesk, and Salesforce. This is a collaborative tool that comes with import and export capabilities along with numerous discussion boards.
14. OpenKM
Pricing: It is open-source, so it is free to download. You need to contact the company for the upgraded versions
Best for: Companies that still have a lot of paper files
If you are in the process of taking paper documents and transitioning them to the electronic world, you might want to take a closer look at OpenKM. This is a tool that can help you keep track of both electronic and paper files, and it allows you to collaborate across multiple departments.
You can create more than one content library, and you can keep track of the entire life cycle of each document. You can access capabilities, version control, and communication tools. This makes it easier to keep track of all of your documents.
This tool integrates with a handful of other third-party apps, including MS Office, PHP, and .NET, making it ideal for companies that utilize an electronic storage system.
15. Zendesk
Pricing: A free version is available. The paid version starts at $19 per agent
Best For: Those with experience using knowledge management software programs
Zendesk has been one of the most popular tools in the industry for a long time, as it is one of the oldest customer service solutions available. The features are smooth, there are plenty of customizable themes, and you can tailor your help center to meet your needs. You get access to content history, access control features, and numerous publishing permissions. Furthermore, it is available in several languages.
If you are a large company looking for a proven program, you may want to go with Zendesk. On the other hand, it does not come with customizable SEO settings. It is also very expensive, so it may not be the right option for small businesses on a relatively tight budget. The customer service team is exceptional, so if you have questions about using the advanced features, someone should be available to help you.
16. Docebo
Pricing: Dependent on the total number of users, usually a few hundred dollars per month
Best For: Those who like to teach
If you are completely new to knowledge management, you should check out Docebo. This is a tool for people who like to teach other people. You can deliver multimedia lessons, courses, and numerous other types of educational equipment. There are plenty of easy words to use, and the user interface will clearly explain how to use each individual.
This is an interactive tool that will engage you as you go. You can take advantage of an incredible content library. It has been used by thousands of companies worldwide, though the third-party integrations can be a bit clunky; this might be the perfect knowledge management software program if you want to teach others people.
17. Confluence
Pricing: There is a free trial available. The paid version starts at $5 per month
Best for: Teams collaborating on numerous types of projects simultaneously
If you have multiple team members working on different projects simultaneously, you understand how difficult it can be to keep everything straight. Now, Confluence can make it easier. Your team members can share their knowledge, work on multiple projects simultaneously, and utilize numerous integrations to streamline the process.
This is a tool you access to more than 15 templates, helping you get projects started quickly. You can even customize your various pages with images, videos, and GIFs. There are also plenty of organizational tools that make it easy for people to find their information. Finally, this platform also comes with a handful of security tools to protect what is most important to you. It works nicely with Trello. Read our guide to personal Kanban.
18. Obsidian
Pricing: Free
Best for: Teams collaborating on numerous types of projects simultaneously and people who need to take detailed notes
Obsidian is one of the most popular note-taking and knowledge management apps. It was created by the professionals who created Dynalist, known as one of the top online outlining tools in the industry. Obsidian is a tool that can help you keep your notes organized.
All of the information is stored in a local folder in Markdown format. Numerous linking features can turn your knowledge base into your command center. There are also many additional features that you can use to customize this tool to meet your needs.
Even though it has many advanced features, they are turned off by default. This makes it easier for you to learn how to use the app while also diving into the advanced features, turning them on at your leisure. Read our Obsidian Notes review
19. DEVONthink
Pricing: The standard edition is $99
Best for: Apple users
DEVONthink is a powerful, complex software tool that can help you organize, edit, and fine-tune a wide variety of various. This tool you can use to alforof your documents, keep them organized, and quickly find them when you need them. Of note, it is only for Apple products.
One of the most important features is taking all of your emails and exporting them from your Mac, iPad, or iPhone. There are countless other file types you can organize, including syllabi from class, notes, and individual articles. Even though you cannot use this app to take notes, you can use it to do just about anything else.
20. Roam Research
Pricing: The lowest tier starts at $15 per month
Best For: Writers looking to stay organized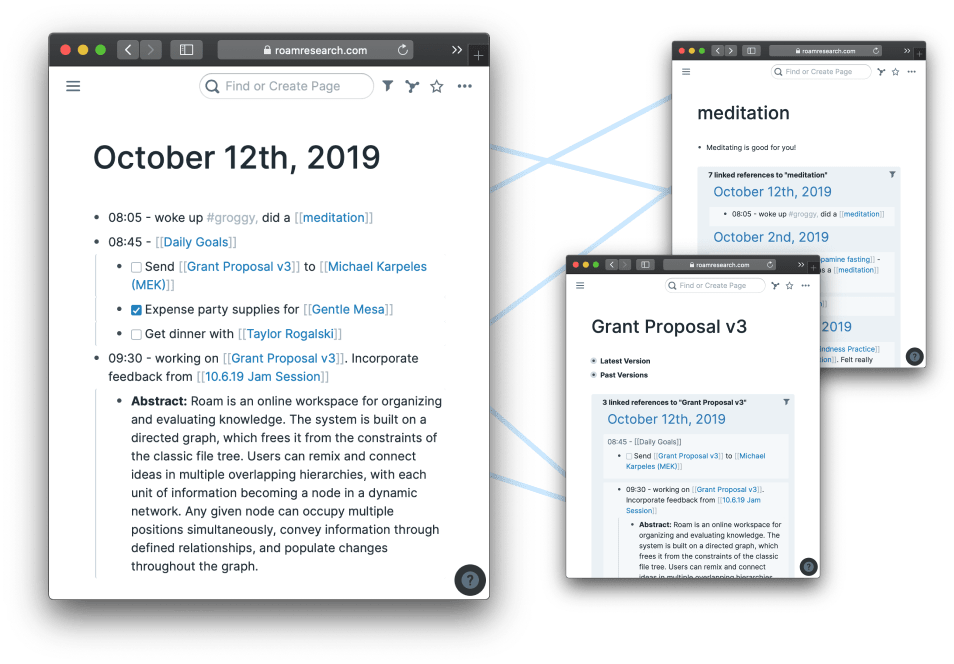 Roam Research is a note-taking application you can use to keep your ideas organized. It is particularly helpful for writers who have a lot of ideas that they want to get on the page but do not know how to organize.
The application is easy to use, allowing you to collaborate with other people in real-time. You can make new pages at your leisure, and you can also use the pages as placeholders to keep your ideas straight. You can work on one main note, and then you can open another one if you have another idea that you want to get down and do not want to forget. The interface is very easy to use; you can integrate images and videos and customize them to meet your needs.
Joplin was founded by Laurent Cozic in 2017. It's a free, open-source, free competitor to Evernote. Joplin is compatible with lots of plugins so you can import data from Evernote, OneNote and more. This app is available for Mac, Windows, iOS and Android. Users can try a web clipper and collaboration tools which many other apps charge money for. For more, read our Joplin review.
ContactOut is a popular knowledge management software that helps businesses easily gather detailed information on their customers, prospects, and contacts. This includes contact information, job titles and positions within the company, social media profiles, email addresses, and more. ContactOut makes it easy to find the right people for your business quickly and accurately by providing detailed contact data.
With ContactOut, businesses can easily access up-to-date information on potential leads and customers so they can target the right people faster. The software also features powerful segmenting capabilities that allow users to create custom lists of contacts based on their particular criteria. This makes it easier to reach out to the right people with customized messages specific to their interests.
Selection Criteria
There are numerous content management and knowledge-sharing tools available, so we put together some specific selection criteria to help us find the best project management options available. They include:
Ease of Use: We wanted to find the best knowledge management software program that was easy to use. This meant finding tools that had plenty of tutorials and templates available and the ability to integrate with a variety of platforms, including Apple, Microsoft, Android, and others.
Features Available: We also consider the features available, including collaborative options, advanced CRM storage capabilities, API capabilities, and integrations. The more features the program had, the better it was.
Value for Money: Even though we paid attention to the document management features, we also want to ensure that you are getting good value for your knowledge management solution. We always take the price into account.
After considering these selection criteria, we developed the best task management and knowledge management tools list.
Why You Can Trust Me
Some of the reasons why you can trust me:
I have a significant amount of experience working with various KM tools.
I have years of experience working with people across multiple industries, so I know what people are looking for.
I solicited reviews and opinions from multiple people to get numerous perspectives before finalizing the list.
Consider some of the KM tools above if you are looking for a strong and worthwhile knowledge management organization process. If you are interested in finding out more, check out our roundup of the best brainstorming software.
What is a personal knowledge management system?
A personal knowledge management system is a methodology for organising notes, research, ideas and information related to one's area of interest. It may comprise analogue or digital tools. Ideally, a user of such a system can store critical personal information in one place, search for what they need and find it quickly and easily. It aids all types of professionals including researchers, writers and executives.
Why is personal knowledge management important?
Personal knowledge management is crucial for anybody who works with content, media or information as part of their job. The internet and modern work surfaces more information and content than any one persona can digest. A good system for sifting through and managing this information fosters literacy and fluency. It can enable someone to become more creative and productive.
Join over 15,000 writers today
Get a FREE book of writing prompts and learn how to make more money from your writing.