Are you curious about Dynalist Pro and how it might compare to other programs such as Workflowy? If so, learn more in this comprehensive Dynalist review!
If you are looking for a program that can help you stay organized, then Dynalist might be right for you. Dynalist can help you keep from bloating your user interface, making it easier for you to see everything you need to do.
Dynalist can help you with note taking, assist with formatting, and make sure nothing falls throug the cracks. Learn more about Dynalist.io from our Dynalist review below, and see how it compares to other programs such as Evernote!
What Is Dynalist and Who Is it For?
Dynalist is an outliner tool that you can keep open in a browser tab. You can use Dynalist to collect as many outlines as you want, organizing them into folders. You will have access to dropdown menus that can help you put everything exactly where you want it. This customization is one of the features that sets Dynalist apart from other programs.
Dynalist has numerous features that dwarf many of the other options available, but it can also be more expensive. Therefore, Dynalist is best for anyone who has a lot of information and tasks they need to manage at the same time.
Testing Criteria for the Dynalist Review
We tested Dynalist in several areas including quality, ease-of-use, and value for money. In general, quality relates to how Dynalist works, the features it provides, and what it does well.
Ease-of-use is all about how easy the program is to learn. How does the application feel when you use it, and how steep is the learning curve? Finally, when we discussed value-for-money, we are taking the features into account, comparing them to the price of the program.
For a complicated program like Dynalist, we really dove into the weeds to figure out what the program can do, what the program cannot do, and what it does best. That way, whether you are using a Mac, Android, or iOS device, you can decide if Dynalist is right for you!
Quality: 4 out of 5
Dynalist is an exceptional program that can carry out a lot of tasks that other programs might struggle with. When you open the program, you can see numerous files and folders on the lefthand side of the screen. You can collapse them to make room. You can also add more folders if you need them, moving project tasks around to keep yourself organized.
Furthermore, as you navigate through the folders, there is a trail of breadcrumbs at the top of the screen. That way, you can keep track of where you are located in the outline.
You will see that various items on the screen have a small dot. If you hover over the dot, you will see a dropdown menu. There, you can check the item off when it is completed or add a note if you want to leave more information about the task. You can also click on the dot to move items where you want them to go or even change the size or color if you desire.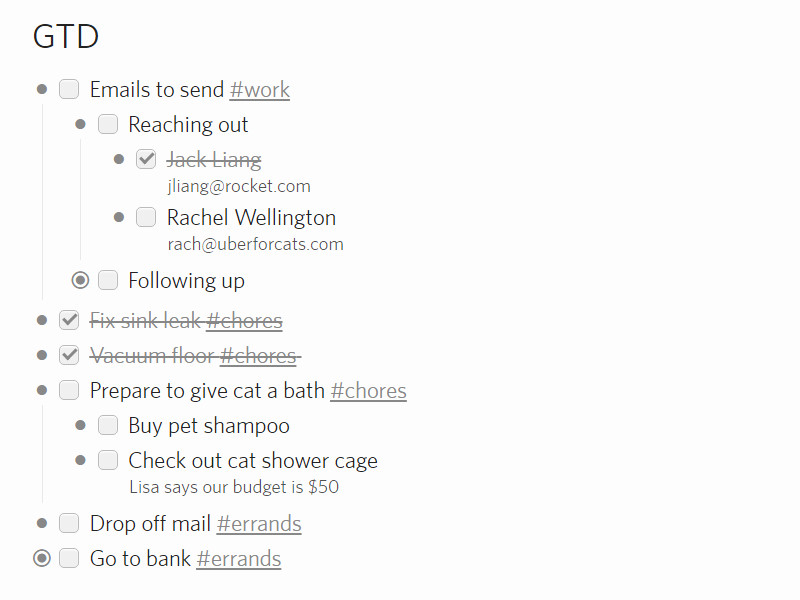 A few other features that might be helpful include:
You can create links between multiple items in the list.
You can add tags that can help you filter various items.
You can leave bookmarks that help you keep your place as you work.
You can also move items between various lists or underneath other items.
The myriad of features set Dynalist apart from other programs.
Ease of Use: 3 out of 5
Even though Dynalist does have a lot of features, it can also be challenging to use. It can take a long time to process all the features of this program, and you may not even need all of them. For example, when we were using the program, it took us a while to figure out everything we could do with the small dot next to the list. Once we figured out what we could do, it became useful, but it did lengthen the learning curve.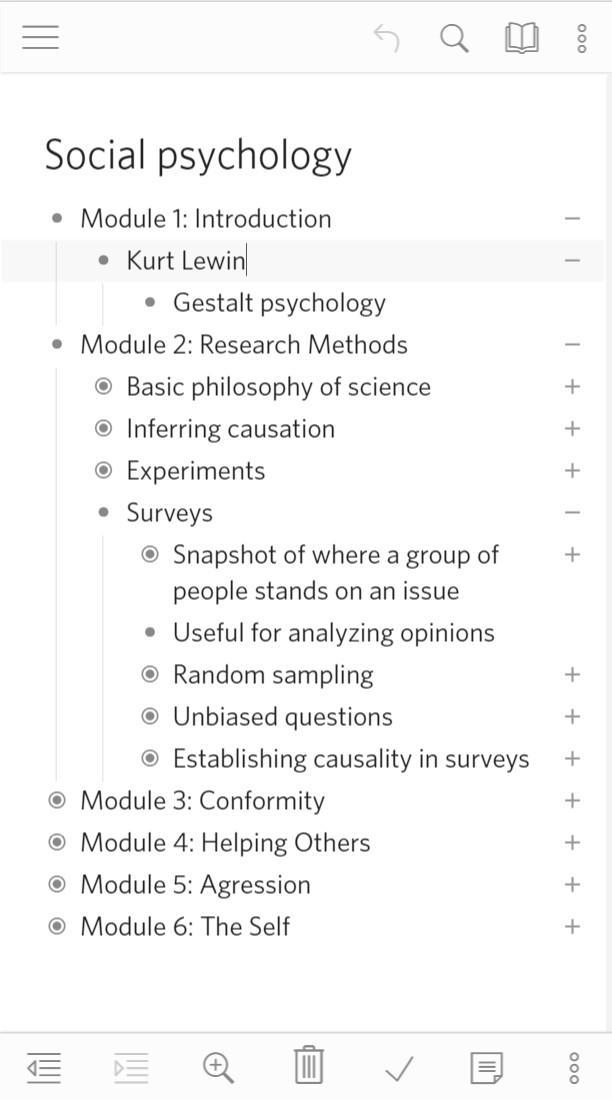 Eventually, we got the hang of the program. It took us several hours, but once we got going, the program was incredibly useful. Therefore, the program is still pretty easy to use, but it can take a while to cut through those first few tasks.
Value for Money: 4 out of 5
Dynalist provides strong value for the price. While it is more expensive than a lot of other programs, such as Workflowy or Trello, it also provides more features. There is a free version of Dynalist, as well as a free trial of the pro version. The free version includes unlimited items and documents, allows you to move items, and gives access to markdown formatting along with internal linking. You can also add dates, tags, and five bookmarks. 
The pro version is $9.99 per month or $7.99 per month if you pay per year. You include everything in the free plan along with numerous other features including Google Calendar integration, recurring dates, unlimited bookmarks, an item finder, a custom toolbar, custom shortcuts, and custom CSS. You also have access to priority email support, making customer service a breeze.
Think about the benefits and drawbacks before you decide if this program is right for you.
FAQs About the Dynalist Review
Does Dynalist offer keyboard shortcuts?
Yes, you can customize the keyboard shortcuts to meet your needs. That way, you can streamline your workflow and improve your productivity.
Does Dynalist have a mobile app?
Yes, there is a mobile app available for Windows, MacOS, and Linux. You can select the one that works best for your needs.
Join over 15,000 writers today
Get a FREE book of writing prompts and learn how to make more money from your writing.
Dynalist Review
Quality

Ease of Use

Value for Money
Dynalist Review: The Bottom Line
If you are looking for a strong program that can help you manage your to-do list, Dynalist is one of my favorite programs. The pricing is fair, the application can handle plain text easily, and you have a wide variety of features that could be helpful for managing your information. You can even use the program to create a mind map.
Even though this productivity tool is a bit more expensive than the other options, it provides numerous task management tools that other programs do not. Consider using Dynalist to streamline your workflow.
Pros
You can handle the document at the same time.
There is a dark mode available in the free version, making it easier on the eyes.
You have access to markdown language and collaborative features.
The pro version comes with a Google Drive Google Calendar integration.
There is a helpful tutorial that can teach you how to get the most out of your bullet points, checkboxes, and other features.
Cons
The program is a bit more expensive than other options.
The program struggles if you use Adobe Acrobat.
It can be challenging to print documents from the program.