Are you looking for the best apps for dictating a book? Here, we profile our top 5 suggestions for authors.
Are you looking for the best apps for dictating a book?
As a writer, I'm used to outlining my work using paper and pencil. Then, I move to the computer and start typing. What made me want to start dictating my work?
The issue was the pain. After I began writing full-time, I began to notice shooting pains flowing down my wrists and into my fingers. I knew it was carpal tunnel, but I loved to write. So, I started looking for the best app for dictating a book.
Installing a dictation app, which is a speech-to-text software program for my computer, saved my career. Using artificial intelligence on these programs, I was able to work without pain once again.
It also dramatically improved my productivity, allowing me to write my books without discomfort. There are multiple dictation programs available for writing a book. Which is the best one for you?
Let's find out.
Recommended
Dragon Anywhere
Dragon offers professional-grade speech to text with near 95% accuracy. It's available on iOS and Android.
We earn a commission if you make a purchase, at no additional cost to you.
1. Dragon Anywhere Dictation Software
Pricing: $14.99 per month or $149.99 per year
It is available for Android and the iPhone/iOS devices operating system.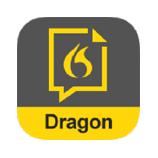 If you are looking for a versatile, well-rounded dictation program that will help you write your book, this is the choice for you.
Similar to Dragon Naturally Speaking, this is a powerful mobile application that comes with a wide array of built-in features. It can dictate without word limits, featuring a 99 percent accuracy rate for native English features.
One of the features I like the best about Dragon dictation is the correction menu, which allows you to quickly and seamlessly rectify any grammar or spelling mistakes.
You can even program Dragon Anywhere to understand industry jargon instead of having to type out certain words by hand, improving your workflow. Unfortunately Mac authors of out of luck… unless they use the mobile version (more of that in a moment)
Rating:
Quality: 5
Ease of Use: 4
Value of Money: 5
2. Speechnotes Voice To Text
Pricing: Free or $5 per month for the premium version
The premium version eliminates ads and automatically counts your words for you. The program is a Google Chrome extension and Android app.
Speechnotes is a free dictation app for your browser that includes a user-friendly interface. The application only works with Google Chrome, but the program has a short learning curve and picks up spoken words well. Simply open the program in your browser and start transcribing in real-time.
The program can also read your text out loud to you. That way, you can spot any grammar issues, typos, or dictation issues. You don't have to worry about overlooking incorrect words or phrases as you proofread.
As someone who commonly overlooks dictation errors while proofreading, I found this feature incredibly useful. It greatly improved the quality of my work.
Speech notes voice dictation software comes with a variety of other features as well including printing, automatic capitalization of letters, autosave functionality, and the ability to export your work to Google Drive.
Rating:
Quality: 4
Ease of Use: 5
Value of Money: 4
3. Google Docs Speech Recognition
Pricing: Free
It requires the Chrome browser to use.
Google Docs voice-to-text software was the first dictation program I ever used. I wrote tens of thousands of words using this program per day. Before I upgraded to other programs, I used this tool to learn how to write without using my hands.
This is a free program that doesn't require you to sign up for anything. You simply have to create a Google Doc and turn on the program in the tools menu. On my Apple computer, I'm sure the CMD + Shift + S shortcut is still ingrained in my fingers.
The microphone icon will appear orange on your Google Doc as it transcribes. It features dictation capabilities in 80 different languages and can pick up various English accents.
It doesn't necessarily have the wide variety of features that premium dictation programs have; however, it is a great starting place if you are new to document dictation and getting ready to start your first draft.
Rating:
Quality: 4
Ease of Use: 5
Value of Money: 4
4. Dragon Anywhere
Pricing: $15 per month or $150 per year
Industry-standard dictation software, at a cost. iOS and Android.
Dragon Anywhere is my preferred dictation app for books. That's down to its ease of use and accuracy. I tested and used the Dragon Anywhere extensively via the mobile app for iPhone and my iPad.
It doesn't take much time to figure out how to use it for dictating book drafts. If you speak clearly and avoid filler words, you'll get 95 to 99% accuracy. Dragon Anywhere supports exports via Evernote, Dropbox, and more.
It's a good choice for authors on a Mac because the company discontinued its desktop app support. Powered by industry-standard dictation software, it costs $15 per month or $150 per year. Of all the software for books I tested, Dragon Anywhere delivered the most accurate results. Otter.AI was the runner-up.
Rating:
Quality: 5
Ease of Use: 5
Value of Money: 4
5. Otter.aI
Pricing: $8.33 per month
Aimed at business users, it's an affordable option for some authors. iOS, Android, and web-based.

Otter.ai is a good choice if you want to transcribe book drafts, with a caveat. It's aimed at business users, so it's more suitable for meeting notes, Zoom recordings and interviews. However, it's worthwhile using, if you work on a Mac, and you need a desktop dictation app for your book.
Otter works via a web browser or their mobile app. It's relatively accurate. However, if you pause dictating it will break up sections of your draft by speaker. In other words, expect to spend some time cleaning up first drafts. That said, you could use this tool to transcribe interviews for a non-fiction book, assuming you're happy to clean the results up. After 600-minutes of free recordings, it costs $8.33 per month.
Rating:
Quality: 4
Ease of Use: 5
Value of Money: 5
The Final Word On Best Apps For Dictating A Book
These are just a few of the many programs you can use to transcribe a book. With many voice typing programs available, compare your needs to the benefits and drawbacks of these choices. A dictation app can help you improve your quality as you dictate a book.
FAQs About The Best Apps For Dictating A Book
Can you dictate a book?
Yes, you can use high-quality software programs to dictate anything you are writing, including a book, without a headset.
What is the best free dictation app?
It depends on what you are dictating. A few options include Speechnotes, Apple dictation (with Siri virtual assistant), and Google Docs Voice Typing. Compare the benefits and drawbacks of these programs to your specific needs.
Join over 15,000 writers today
Get a FREE book of writing prompts and learn how to make more money from your writing.